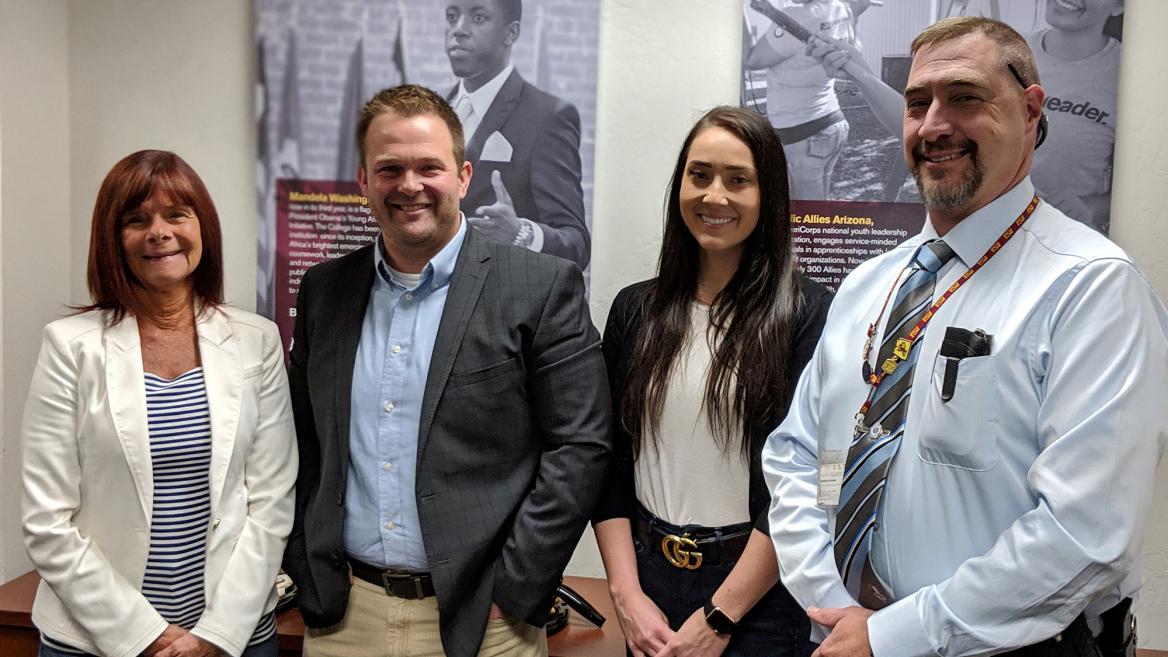 School of Criminology and Criminal Justice recognizes community-engaged alumni
The School of Criminology and Criminal Justice at Arizona State University has announced its 2019 alumni awards, which this year included three categories.
Alumni Scholar Award
Presented to Associate Professor Scott Wolfe, Michigan State
For outstanding scholarly contributions to the discipline of criminology and criminal justice by a person who has received the MA, MS, or PhD from the School of Criminology and Criminal Justice at ASU.
Scott Wolfe, associate professor at Michigan State University, is a 2012 PhD graduate who is heavily engaged in research with state and federal agencies associated with police reform. Honing his research chops at ASU, Wolfe has been cited over 2,000 times with six of his articles cited 100 or more times. Scott moved quickly to produce useful research evidence around the "Ferguson Effect." This work figured prominently in public policy debates relating to policing and crime. As noted by his nominator Ed Maguire, "To help inform policy is the mark of a genuine public scholar. Wolfe is a public scholar who is engaged with the community at multiple levels. I see in him a bright, industrious and very promising young scholar."
Alumni Award for Early Career Excellence
Presented to Officer Allyson J. Roy, Tempe Police Department
For demonstrating notable early-career accomplishments that indicate future success for contributions to the fields of criminology and criminal justice through research, practice or policy.
Allyson Roy is steeped in Sun Devil pride, having received both her undergraduate ('12) and graduate degree (MS '14) from ASU. Immediately hired as a crime analyst with the Tempe Police Department, Roy used her knowledge of ASU and Tempe to make connections that helped lead to the school receiving grant funding from the Laura and John Arnold Foundation for work on the Tempe Police Department's body-worn camera program. Fast forward to 2016, and Roy became a sworn officer of the Tempe PD. Her nominator, Mike White, said, "Allyson epitomizes what it means to be a 21st-century cop: educated, mature, empathetic, data savvy, a strong communicator and an excellent problem solver". You can look for Roy on the television show "Live PD presents: Women on Patrol."
Dr. Marie Griffin Distinguished Alumni Award
Presented to Detective Randall W. Snyder, Pinal County Sheriff's Office
For having made significant contributions to the advancement of criminology and criminal justice through distinguished leadership achievements as a practitioner in one of the justice professions.
This award is in memory of beloved School of Criminology and Criminal Justice professor Marie Griffin. This year's recipient, Detective Randall Snyder (MA '14) of the Pinal County Sheriff's Office criminal investigations bureau, internet crimes against children unit, was recognized for his significant contributions to the advancement of criminology and criminal justice through distinguished leadership achievements. Among other awards, Snyder has received a special commendation from the U.S. attorney general's office. He has been directly responsible for the capture of domestic and international child exploitation offenders, rescuing many children from the hands of abusers. As noted by one of his former supervisors, "but for Snyder's efforts these children would still be in the hands of their abusers."
School Director Cassia Spohn noted, "As our program continues to mature, selecting from our pool of alumni nominations for these awards has become increasingly difficult. This is further testament to the fact that the School of Criminology and Criminal Justice continues to develop and train the most highly qualified graduates in the industry."
Written by Nancy Johnson, School of Criminology and Criminal Justice