Internships
Earn 3 to 12 credits working in various criminal justice agencies nationwide!
Internship programs
The School of Criminology and Criminal Justice partners with community businesses and criminal justice organizations to provide undergraduate and graduate internships. Our internship coordinator is available to assist students in locating internships in their area of interest, as well as act as a liaison between the student and the internship provider once the internship has begun. 

Students can earn college credit, gain professional work experience and network with professionals in their field. Internships are offered during the fall, spring and summer semesters.
Eligibility
Student must meet the following requirements:
Junior, Senior or Graduate status 
2.75 cumulative GPA

Undergraduate Students: Completion of 3 of the following CRJ core classes: CRJ 100, CRJ 302, CRJ 303, CRJ 305, CRJ 306, and CRJ 309. Graduate Students: Completion of core class CRJ 501.
Application process
Student can NOT start their internship until our Dean of Watts College of Public Service and Community Solutions authorizes a Student Placement Agreement.
Meet with an advisor to determine the number of internship credit hours you can enroll in and apply to your academic curriculum requirements. Review the eligibility criteria to ensure you qualify.
Meet with Career Services to create resume, cover letter, and agency internship interests. This is required.
Review the Internship Community Partner list.  Identify the top three agencies.  You are responsible to apply to and secure your own internship.
Submit resume and cover letter to the agencies of your choice. Complete agency interview process.
The School of Criminology and Criminal Justice now utilizes Experiences in Handshake to approve and track all student internships. Once you have been hired by an agency, you will submit your agency's information and your internship supervisor's contact information into Handshake, along with student id, email, phone number, GPA, and verifying that you have met the eligibility requirements. To get started, visit the Handshake website   and use your ASURITE@asu.edu email and password to log in. Follow these steps to input your agency and supervisor's information. An internship is referred to as an "experience" on Handshake.
To request your experience:

Go to: https://app.joinhandshake.com/experiences (alternatively from your homepage, click on "Career Center" in the top right and then "Experiences")
Select "Request an Experience"
Select "School of Criminology and Criminal Justice" from the first drop-down menu.
Fill out all questions completely, paying special attention to coursework and GPA requirements for completing your request.
Once you have requested your experience, our team will review before sending to your internship site supervisor for approval. You can track the status of your request under the "Experiences" tab in Handshake.
Register for the course: CRJ 484 for Undergraduate students, CRJ 584 for Graduate students. Please note: A maximum of 6 credits will apply toward Undergraduate major or Graduate Program of study
Deadline to apply
Summer semester: April 1
Fall semester: June 1
Spring semester: December 1
 ***Students who apply after the deadline will be considered on a case by case basis.***
Internship partner agencies
Students have the opportunity to intern at one of more than 200 criminal justice related agencies including law enforcement, courts, corrections, corporate and non-profit.  If you are interested in becoming a community partner, please complete the community partner form.
Credit & contact hours
Schedules are negotiated between the agency and the intern.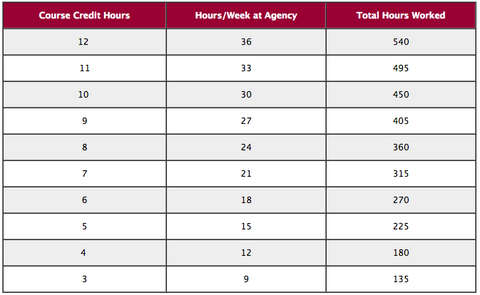 *Summer hours/week are higher because the session is shorter. Contact Shonda Hertle with questions.  
Grading the internship experience
CRJ 484 and CRJ 584 operate on a pass/fail grading system. To pass the course, students must satisfactorily submit all required components on time and complete the required number of internship hours by the end of semester processing. 
Internship applicants, please contact:
Shonda Hertle, Internship Advisor, School of Criminology and Criminal Justice
Watts College of Public Service and Community Solutions
Arizona State University, Downtown Phoenix Campus
411 N. Central Avenue, Suite 600
Phoenix, AZ 85004-0685
phone:  602.496.2356  fax:   602.496.2366
Shonda.Hertle@asu.edu
Potential community partner agencies please contact:
Brooks Louton, CRJ Internship Coordinator
Watts College of Public Service and Community Solutions
Arizona State University, Downtown Phoenix Campus
411 N. Central Avenue, Suite 600
Phoenix, AZ 85004-0685