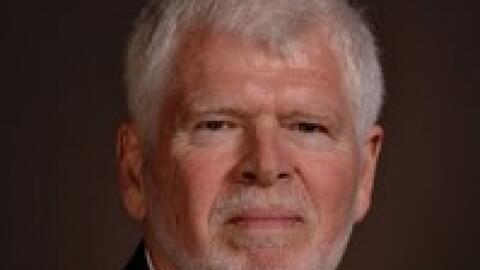 ASU school renames Alumni Scholar Award for retired Professor John R. Hepburn
ASU's School of Criminology and Criminal Justice has renamed the annual Alumni Scholar Award for a distinguished member of its faculty who retired this spring.
The Dr. John R. Hepburn Alumni Scholar Award was renamed at the request of the faculty. It is an annual award presented for outstanding scholarly contributions to the discipline of criminology and criminal justice by a recipient of a MA, MS, or PhD degree from the school.
Hepburn's career started at the University of Iowa where he obtained a PhD in sociology. He spent time at Augustana College in Illinois and was an associate professor and fellow for the Center of Metropolitan Studies at the University of Missouri, St. Louis. 
Hepburn came to Arizona State University in 1984 as director and professor of justice studies (at the renamed School of Justice and Social Inquiry). He served as director for five years. In 2005, he was named dean of the College of Human Services on ASU's West campus and was instrumental in transforming the Administration of Justice program into the School of Criminology and Criminal Justice, which has continued to thrive since its move to the Downtown Phoenix campus. From 2008 through 2014, he served as vice provost of academic affairs. Since then, Hepburn has served in the role he loves most: a professor who teaches, researches and mentors. He retired from ASU at the end of the spring 2021 semester.
Hepburn has extensive research experience on contemporary issues of corrections, including offender reentry into the community. He studies the effects of individual risk factors and criminal justice organizational structures and processes on the offender's future social and criminal outcomes. The other focus of his research is the sociology of the prison as a complex organization. Throughout his career, Hepburn not only served in key administrative roles, but he also secured over $3.5 million in funded research. He has numerous publications, including both refereed and nonrefereed articles, books and book chapters.
Hepburn has also served as a mentor and friend to countless students and faculty. School of Criminology and Criminal Justice Associate Director Hank Fradella is one of those individuals.
"Since 1994, John has been my primary academic mentor. He has had a huge influence on my work as a teacher, author, administrator and professional in our discipline. He instilled in me the importance of being a servant-leader and a good mentor for the next generation of scholars," Fradella said. "I now know him as one of my dearest friends. While he will be absent from our school, I look forward to seeing John's continued work in the field and at conferences and symposia. Moreover, I look forward to spending social time with him in his retirement."
The school's Director Jon Gould reflected that, "John has been a wealth of information supporting me and the school. I have appreciated his institutional knowledge and help in navigating the university. He may be retiring, but I have his cell number, and he has promised to still answer."
Gould also noted that when Hepburn announced his retirement, several faculty members independently approached him about naming an award in his honor. "John always has been — and always will be — highly regarded, and I am very pleased that we moved forward on naming this award after him," Gould said.
The 2020–2021 recipients of the Dr. John R. Hepburn Alumni Scholar Award are David Pyrooz, PhD (Class of 2012) associate professor, University of Colorado; and Jill Turanovic, PhD (Class of 2015) associate professor, Florida State University.