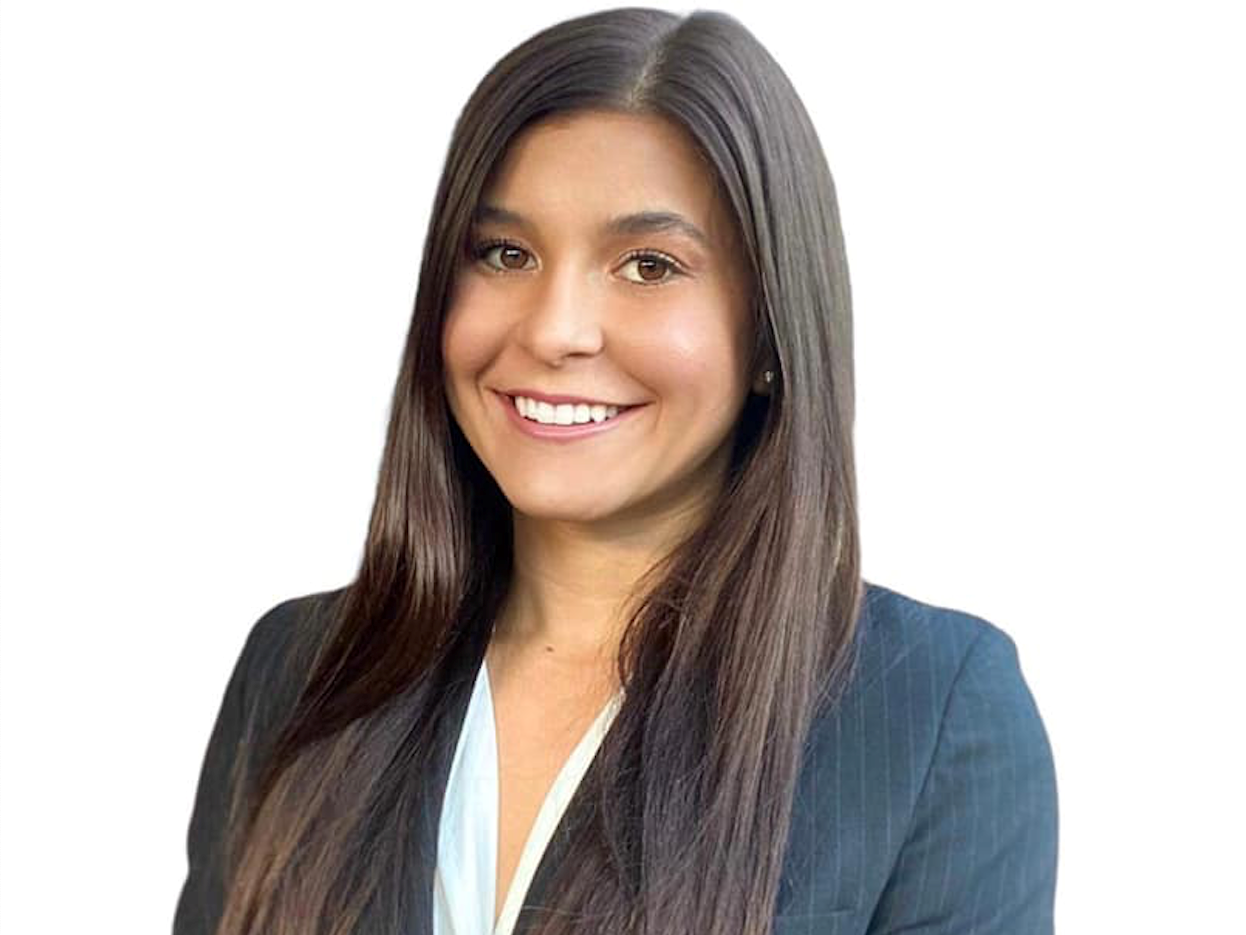 Student spotlight: Successful internship leads SCCJ grad student to job providing resources to formerly incarcerated
Maddi Briguglio has every reason to be proud of her stellar undergraduate career, the kind of achievement that's a textbook definition of inspiration.
She received a Bachelor of Science degree in criminology and criminal justice from the School of Criminology and Criminal Justice (SCCJ), graduating summa cum laude. A Dean's List honoree for each of the eight semesters she attended ASU, at commencement the university presented her the Moeur Award, given to graduates with the highest GPA. She also received a Scholarship Award from the Medallion Scholarship Program.
Today, as a student in the online Master of Arts degree program in criminal justice, there is something that ranks even higher for her. It was the result of an internship arranged by SCCJ instructor Eric Johnson and Associate Professor Kevin Wright, director of the ASU Center for Correctional Solutions.
"While I am proud of my undergraduate career, I am even more excited to be advancing in the field," Briguglio said. "During my first semester, I interned for an organization known as the Inside Out Network (ION). This organization works on providing resources to those who are getting released from incarceration in hopes to help them with a successful re-entry."
Once Briguglio completed her internship, ION offered her a staff position as program manager for Illinois.
"I am now two months into my position as program manager and I am excited to keep improving the reintegration process in the state," she said.
Fred Nelson, ION's executive director and board president, is Briguglio's supervisor. He said she is a real leader who "sets the bar," making things better for everyone else.
"Maddi is one of those people that has forward motion, who clearly leans into life. She leads and influences others around her by her example of energy, positivity, discipline and strong work ethic," Nelson said. "And yet, with all that, one of the most refreshing things about working with her is how 'other-centered' she is, both with her fellow interns and co-workers as well as with the re-entry service providers she interacts with."
Read on to learn more about Briguglio and what her time at ASU has meant to her and her career, as well as some interesting non-academic pursuits in health and fitness and in athletics.
Q. Tell us a little about yourself today and your early years.
A.  I was born and raised in Fountain Hills, Arizona. I was active in my youth as I played volleyball, basketball and softball all throughout high school. After graduation, I attended ASU, where I received my Bachelor of Science degree in criminology and criminal justice and I am currently in graduate school at ASU pursuing my Master of Arts degree in criminal justice. In addition, I have been a personal trainer and group fitness instructor for the past seven years. As for employment in the field, I am currently a program manager for the Inside Out Network. I have also always had a passion for volunteerism, so I am a volunteer for the Arizona Department of Corrections. I try to make a positive impact wherever I can and will always strive to contribute to a better society.
Q. What was your "aha" moment, when you realized you wanted to study the field you majored in?
A.  I always had an interest in criminal justice so although I began my time at ASU studying exercise and wellness, I took a criminal justice course as an elective. I loved all that this class had to offer so at the beginning of my sophomore year, I changed my degree program to criminology and criminal justice. Growing up fortunate and slightly isolated, I was not aware of the extent to which our system needed to improve. When this became a reality, I wanted to learn whatever I could to help make a difference within the field.
Q. Why did you choose ASU?
When I was getting ready to graduate high school, I was also considering joining the United States Army Reserve. Due to this, I needed to stay close to where my potential unit was posted. I applied to ASU and received the Dean's Scholarship as well as the Medallion Scholarship and taking all of these things into consideration, I decided to attend ASU. While my reasons were based on practicality at first, I thoroughly enjoyed my time spent at ASU – so much so that I applied to graduate school and wanted to continue my education at the university.
Q. What's the most important thing you've learned at ASU – about yourself, about what you're studying, anything -- that came to you as a complete surprise?
As I previously mentioned, I grew up fortunate and was sheltered from a lot of the harsh realities that are present within our society. During my time at ASU, I saw the inequalities that many experiences as a result of the criminal justice system. When I discovered the extent of this, I wanted to learn as much as I could about why these disparities are present within the system. This led to diving into the study of criminology and understanding why people commit crime on societal and individual levels. Once I had a better understanding of this, I found a passion for rehabilitation and reintegration and this taught me forgiveness and grace. Not only is it important to be understanding to others, but it taught me to be kind to myself as well. This shift in mindset was shocking as I always thought I needed to do everything perfectly in order to be successful. However, this is not the case, as massive growth can occur in times of failure and difficulty.
Q.  What's the best piece of advice you'd give to those students following behind you?
A.  To anyone following me, work hard and be passionate. There will be times things don't go as planned or something is more challenging than you anticipated. However, if you work hard to overcome the adversity, you will develop character traits that will take you far in life. In addition, find something you are passionate about. If you truly love what you are doing, the hard days become easier. Have a "why" and refer back to it often. Your work will be better because of it!
Q.  If someone gave you $40 million to solve one problem on our planet, what would you tackle?
A.  Sticking with the criminal justice field, I would tackle wrongful conviction. To me, there is not much worse than someone missing out on their life and taking years away from them for something they did not do wrong. There is nothing that can give them these years back; no amount of compensation makes up for something of this nature. This problem is all too common in our criminal justice system, so I would use these funds to try and ensure it does not continue to happen at the rate it currently does.
Q.  What is your favorite sports team?
A.  My favorite sports teams are the New England Patriots and the Boston Red Sox. A majority of my family is from Massachusetts, so I grew up watching Pats games every Sunday with my GG (grandma on my mom's side). I continued to watch with her even through college and it is some of my favorite memories.
Q.  What is something you think would surprise people to learn about you?
A.  Not many expect it, but I am a competitive amateur boxer and I compete in USA boxing sanctioned events. I had my first fight at 16 years old and fell in love instantly. I have continued to box and compete; I am just waiting for COVID restrictions to be reduced to hopefully get back in the ring.
Q. What's your life motto in one sentence?
A.  "You either get better or you get worse; you never stay the same." -- Bo Schembechler, former University of Michigan football coach
(So, it is important that you are always doing what you can to better yourself and those around you!)
Mark J. Scarp
Watts College of Public Service and Community Solutions
mark.scarp@asu.edu
602/496-0001