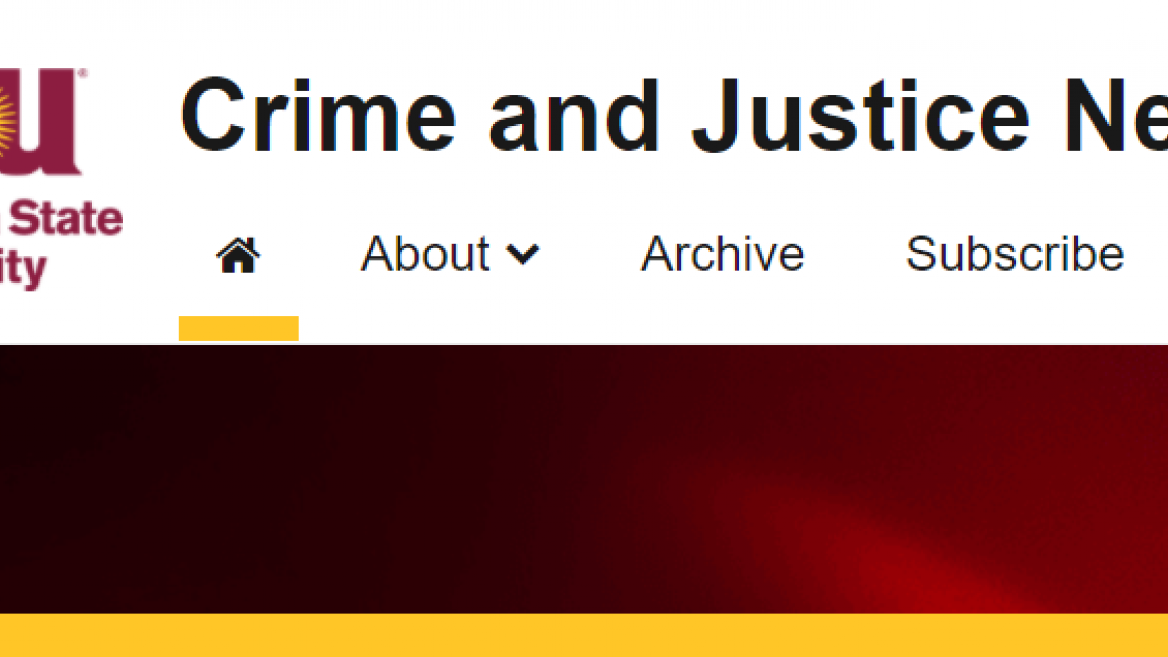 Respected criminal justice news source 'Crime and Justice News' now based at ASU
Crime and Justice News, a daily digest of original reporting of criminal justice news and an aggregated summary of such news from media reports, government agencies and interest groups, is now based at Arizona State University.
ASU officials say additional content and the collaboration of three Downtown Phoenix campus entities are expected to make Crime and Justice News, a respected source for criminal justice and legal practitioners since it first appeared in 2003, even more useful to industry professionals and the general public.
Content for the news digest, emailed daily to its subscribers, will continue to be compiled by its founder and editor, Ted Gest, and provided through a collaboration between the Watts College of Public Service and Community Solutions' School of Criminology and Criminal Justice (SCCJ), Sandra Day O'Connor College of Law's Academy for Justice (A4J) and the Walter Cronkite School of Journalism and Mass Communication.
The report was housed for several years at John Jay College in New York City, where it was successful at providing daily summaries to the criminal justice community and earned tens of thousands of hits per day, said SCCJ Director Jon Gould, Foundation Professor of criminology and law.
Crime and Justice News' content will be offered free to the public through a new website at crimeandjusticenews.asu.edu. Now that it is based at ASU, Gould said he believes it is important for the university to be a "translator between scholarly research and practitioners. Bringing Ted's work here will enable us to share this information to the world without cost. This would be a free service to readers."
Gould said the report will be designed not just for the criminal justice community and policymakers but also for the general public because it is more than an aggregation. Gest aggregates criminal justice news and information but also summarizes it, which will help foster greater public understanding and awareness of what is happening in criminal justice, Gould said.
What makes the report's coming to a new home even more exciting, Gould said, is the collaboration between the three schools, involving contributions to it from each.
"This collaboration combines at least three of ASU's Design Aspirations. We are fusing intellectual disciplines, applying our use-inspired research to help transform society," Gould said. "This is what ASU is all about, leveraging not only our place, but also our capabilities together in something all three schools care about: making the connection between the university and the world."
ASU law Professor Erik Luna, director of the Academy for Justice, called the partnership unprecedented in bringing together "three world-class schools whose disciplines are directly implicated by the reporting and review of American criminal justice." Luna noted that Crime and Justice News will help A4J fulfill its own mission to bridge an historic gap between academia and public policy.
The daily digest will offer members of the public "the tools by which they themselves can come to appreciate the criminal justice system and to reach their own conclusions as to what should be done to improve the system," Luna said. "We will provide coverage and analysis that is accurate and enlightening, helping to deliver the materials needed for an informed citizenry, in whose name the criminal justice system is operated."
Internships will be available to Cronkite students to assist with the digest, while other students in the school's Digital Audiences Lab will help identify ways to expand the reach of the newsletter and identify news audiences.
In addition to producing Crime and Justice News, Gest, a veteran journalist, reports and blogs on criminal justice developments in Washington, D.C., and elsewhere in the country. Gest covered the White House, the Justice Department, the Supreme Court and legal and justice news during a 24-year career at U.S. News & World Report.
He is president of Criminal Justice Journalists, the nation's only association of criminal justice reporters, which he co-founded in 1997, and whose members assist him with content for Crime and Justice News. Gest, a St. Louis native, has been cited by the National Council on Crime and Delinquency and won an American Bar Association Silver Gavel Award. He will continue to live with his wife in Washington, D.C.
Gest said ASU's hosting the report and contributing to it will enable him to write longer pieces beyond the well-known summaries that are about 300 words long. In addition, the report will feature commentary and contributions from around the country, he said.
Gest said ASU will be a great asset.
"Criminal justice is a major topic in journalism, one of the top five or six issues that journalists cover," he said. "ASU was attractive because it has a solid journalism school."
Mark J. Scarp
mscarp@asu.edu