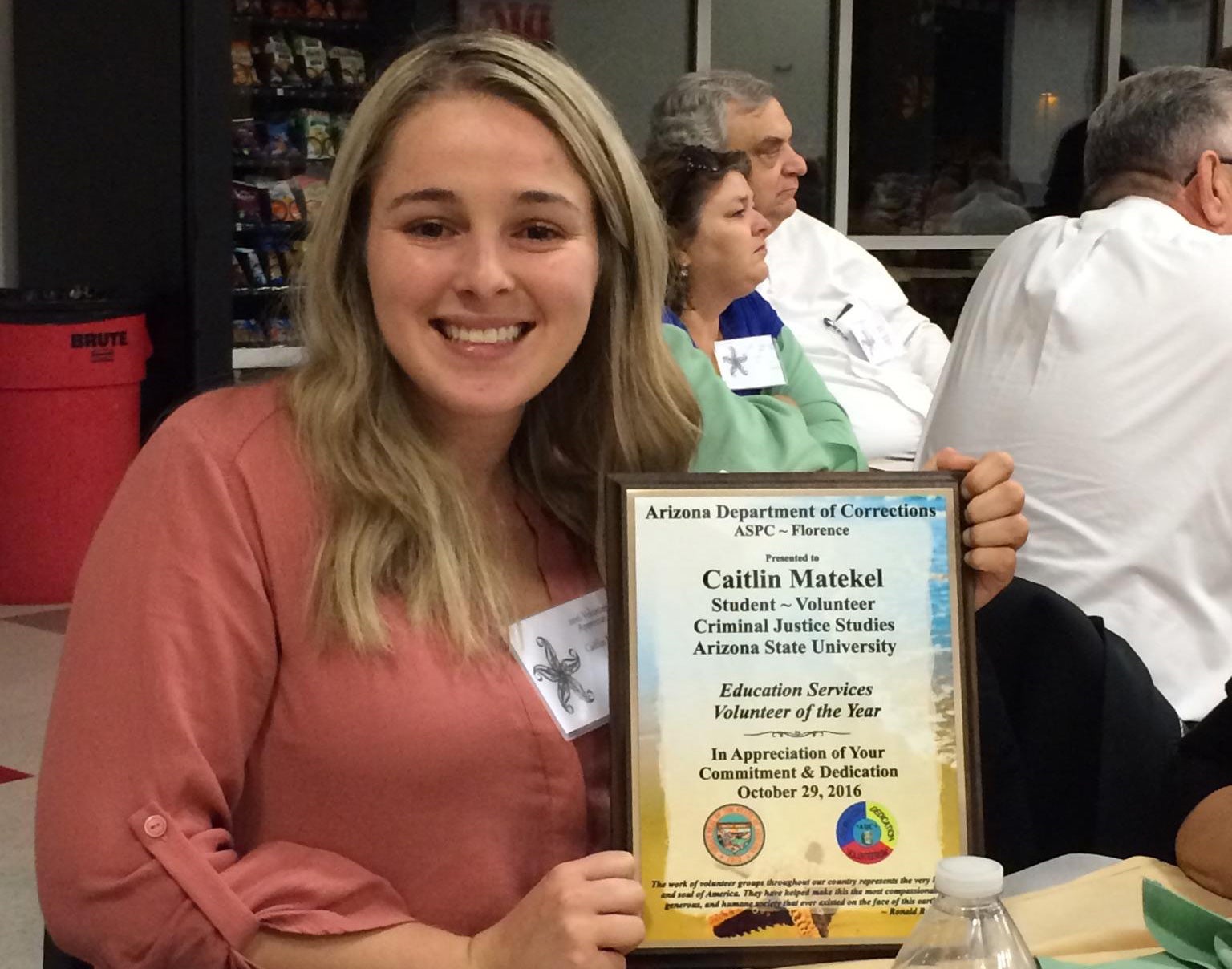 Matekel named ADC volunteer of the year
Caitlin Matekel has been honored as volunteer of the year by the Arizona Department of Corrections Florence complex. Since receiving her bachelor's degrees in psychology and criminology and criminal justice in spring 2016, Matekel has continued to serve as a volunteer while pursuing her master's degree. But, she has an accomplished history working with ADC.
As part of the undergraduate research program, she assisted with data collection examining the impacts of prison visitation. As a senior, she interned with the organization helping correctional staff with educational and vocational programming in Florence. Her work was so exceptional that the Deputy Warden requested that she stay for a second semester.
As part of the internship, she also helped facilitate the Inside-Out Prison Exchange program, the first of its kind in Arizona. The program brings together ASU students with individuals who are incarcerated to learn together about issues of crime and justice.
"I have worked to create social change through interning with the Arizona Department of Corrections and working in programs and classes. I believe very strongly in bridging the gap between prison and the community," Matekel said.  "I have assisted in teaching as well as working to develop new classes such as cognitive restructuring and mindfulness. I have been working one-on-one with inmates struggling with PTSD and anger management."
In September, Matekel began teaching the impact of crime on victims class. Students discuss different crimes and bring in speakers who have been victims to help people who are incarcerated understand the impact of crime on victims and the ripple effect of crime. 
"My goal is to provide as many opportunities for inmates to become better people through learning new skills and addressing personal conflicts so that they can be successful and positive members of the prison community and society upon release," she said.