Criminology & Criminal Justice, MS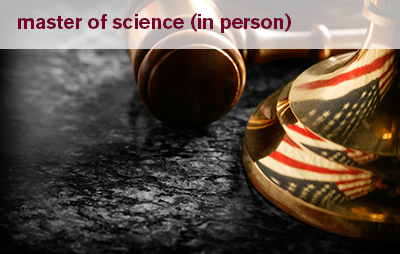 About the program
The Master of Science in Criminology and Criminal Justice (MSCCJ) degree program is designed to provide students with a high level of theoretical and empirical knowledge about crime and criminal justice. The program provides students with the advanced research skills needed for careers as criminal justice researchers, leadership roles in criminal justice and related agencies and organizations, and for continued study in doctoral programs in criminology and criminal justice.
Both thesis and non-thesis options are available to complete the M.S. degree.  Students who do not wish to write a thesis may complete a capstone policy paper. Students who elect to write a thesis will engage in research that makes a contribution to knowledge in the field.
Note: All requirements for the degree must be completed within six years from the date of the first course listed on the program of study.
Benefits of program
Research preparation for PhD programs and/or to understand and employ evidence-based best practices in the justice profession
Highly ranked graduate program
Courses designed and taught by nationally-esteemed faculty 
Rolling admission for fall and spring semesters.  Priority deadlines for funding consideration:  
Fall semester - January 1st 

Spring semester - October 1st 

Plan of study 
The Master of Science Degree in Criminology and Criminal Justice is a 33 credit hour program. This includes either (a) 27 credit hours of course work and 6 hours of thesis; or (b) 30 credit hours of coursework and 3 hours of a capstone policy paper.
Students pursuing the Master of Science in Criminology and Criminal Justice will take courses in two core areas:
Theory and research on crime and the criminal justice system and
Research methods and analytical techniques.
In addition, the student will select elective course work related to his/her areas of interest in consultation with the supervisory committee.
Required course work (15 credit hours)
Theory and Research on Crime and the Criminal Justice System (6 hrs)
CRJ 501: Seminar in Criminal Justice 
CRJ 502: Seminar in Criminology
Research Methods and Analytical Techniques (9 hours)
CRJ 503: Research Methods in Criminal Justice
CRJ 504: Statistical Tools for Criminal Justice
CRJ 604 Advanced Statistical Analysis   
Electives (9-12 credit hours)
*500-600 level courses 
(In consultation with the supervisory committee)
Culiminating Project (3-6 credit hours)
CRJ 505: 

Theory and Practice in Criminal Justice

(3)
CRJ 599: Thesis (6)
Filing your plan of study
The Graduate College requires students to submit their Interactive Program of Study (iPOS) online when 18 credits have been scheduled.
A reminder
All colleges, schools, divisions, and departments establish certain academic requirements that must be met before a degree is granted. Advisors, directors, department chairs, and deans are available to help the student understand these requirements, but the student is responsible for fulfilling them. At the end of a student's course of study, if requirements for graduation have not been satisfied, the degree is not granted. For this reason, it is important for all students to acquaint themselves with all regulations, to be informed throughout their college careers, and to be responsible for completing all requirements.